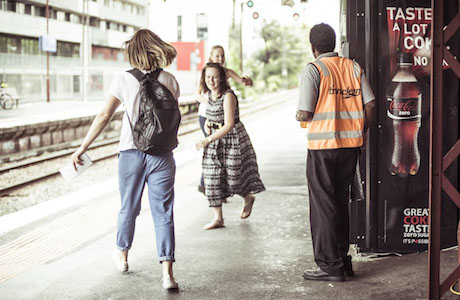 I have been back in Australia for the last month recreating In-ya-ear with the Renae Shadler & Collaborators team and local community in Mentone.
In-ya-ear was then installed at Mentone Station last week with the support of Kingston City Council. The installation took place over 3 action-packed days with highlights including: performer – Tessa Kate Broadby – dancing to K-pop, having a gym work out and swaying with commuters on Platform 1, an elderly gentleman named Terry spent a few hours with us on Thursday participating in all 5 installations, I had some near misses of Crush Candy with activities continuing onto the train, and 13-year-old Ben transcribed Roberto Jordan's audio work for his Mum who is a writer.
Take a look at the Mordialloc Chelsea Leader feature article – who said newspapers are a thing of the past!
In-ya-ear Mentone Station
Melbourne, Victoria
1.30pm-4.30pm, 2nd-4th March 2016